Economic resilience proves China's ability in handling compounding crises******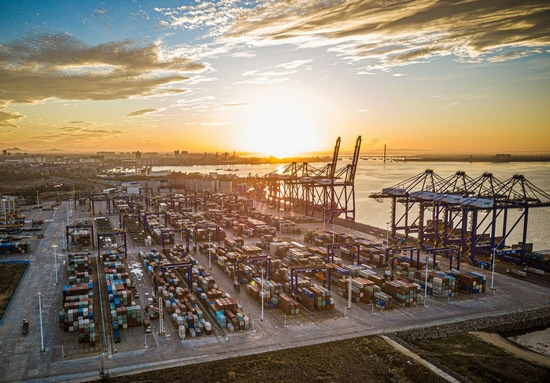 Aerial photo taken on May 26, 2021 shows the Yangpu international container port at Yangpu economic development zone in south China's Hainan Province. (Xinhua/Pu Xiaoxu)
BEIJING, Oct. 20 (Xinhua) -- China's economic growth notched 9.8 percent year on year in the first three quarters, which indicates that, despite global downward pressure, the Chinese economy has maintained the recovery momentum and continues to play a stabilizing role for the world economy.
While some overseas observers noted that China's growth rate slowed down in the third quarter compared with previous ones, they admitted that the Chinese economy is expected to return to its pre-coronavirus trajectory.
Facing multiple risks, the Chinese economy does not lack bright spots: domestic consumption is coming back; the high-tech manufacturing sector has posted a strong performance; and the service sector's input for the overall economic growth continues to go up.
In the meantime, China's foreign trade is showing strong resilience despite disruptions in global supply chains. China's exports to major world economies, including the European Union, the United States, Japan and South Korea, all maintained a double-digit growth in the first three quarters.
"For months, economists have made the same prediction: the fast growth of China's exports cannot last. The economists were wrong," The New York Times said in a recent report, which highlights China's ability to navigate its economy in times of compounding tests and challenges.
The Chinese authorities always take into account both cyclical and structural elements of the economy, and give targeted policy support to weak economic spots, while avoiding flooding the economy with liquidity and keeping on optimizing China's economic structure. Beijing has also paid close attention to striking a balance between stimulating short-term recovery and fostering long-term growth like boosting green development.
Moreover, China has carried on with deep reforms to expand market access for foreign investments, upgrade its business environment and promote multilateral trade cooperation.
The Chinese authorities have also stayed wary of the headwinds facing the economy, cautioning against "rising uncertainties in the international environment and uneven recovery in the domestic economy," according to National Bureau of Statistics spokesperson Fu Linghui. He pledged that China will continue to "take various measures to keep the economy running within a reasonable range."
In March, the Chinese government set its annual GDP target for 2021 at over 6 percent although many had expected the growth to reach 8 percent or more. This would give Beijing "more room to deal with long-festering issues in the economy," said The Wall Street Journal.
Looking ahead, the Chinese economy is expected to continue to perform well. Latest forecasts on China's yearly GDP in 2021 by the International Monetary Fund, the Asian Development Bank and the Organization for Economic Co-operation and Development all posted a rate of 8 percent or more.
As reporters of The Economist dug into stories of high-tech innovators in Hangzhou, nimble exporters in Wuxi and ambitious entrepreneurs in Wenzhou, all cities in east China, they found that "two of the fundamental underpinnings of China's economic dynamism remain intact: red-blooded competition in the private sector and the restless quest of millions upon millions of ordinary people to improve their lot in life."
Given China's determination to push forward reforms as well as its flexibility in policy, the Chinese economy is buoying confidence in the global recovery and will bring more development opportunities to other economies. Enditem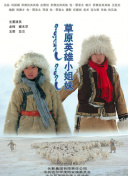 下月起12329住房公积金热线归并到12345政务服务便民热线******
  归并后,缴存职工还可以拨打12329咨询公积金相关问题。
  根据《国务院办公厅关于进一步优化地方政府服务便民热线的指导意见》(国办发〔2020〕53号)、《陕西省人民政府办公厅关于印发推进政务服务便民热线归并优化工作方案的通知》(陕政办函〔2021〕47号)和《西安12345市民热线综合服务平台升级扩能方案》要求,按照西安市人民政府统一安排,2021年11月1日18时起,将12329住房公积金热线归并到12345政务服务便民热线。
  10月22日,华商报记者从西安住房公积金管理中心了解到,归并后,实行双号并行,对涉及西安住房公积金管理中心辖区内住房公积金业务的咨询、建议、投诉等可拨打12345政务服务便民热线或12329住房公积金热线。公积金账户查询、业务办理等事项可通过西安政务服务网、i西安app等渠道进行。
  华商报记者 卿荣波
来源:华商网-华商报
编辑:报社方正
【爱心彩票-购彩大厅👉👉十年信誉大平台,点击进入👉👉 打造国内最专业最具信赖的彩票平台,为您提供爱心彩票-购彩大厅用户登录全网最精准计划软件,APP下载登陆,强大的竞彩网上推荐!!】
Kazakh president fails to quell protests, ex******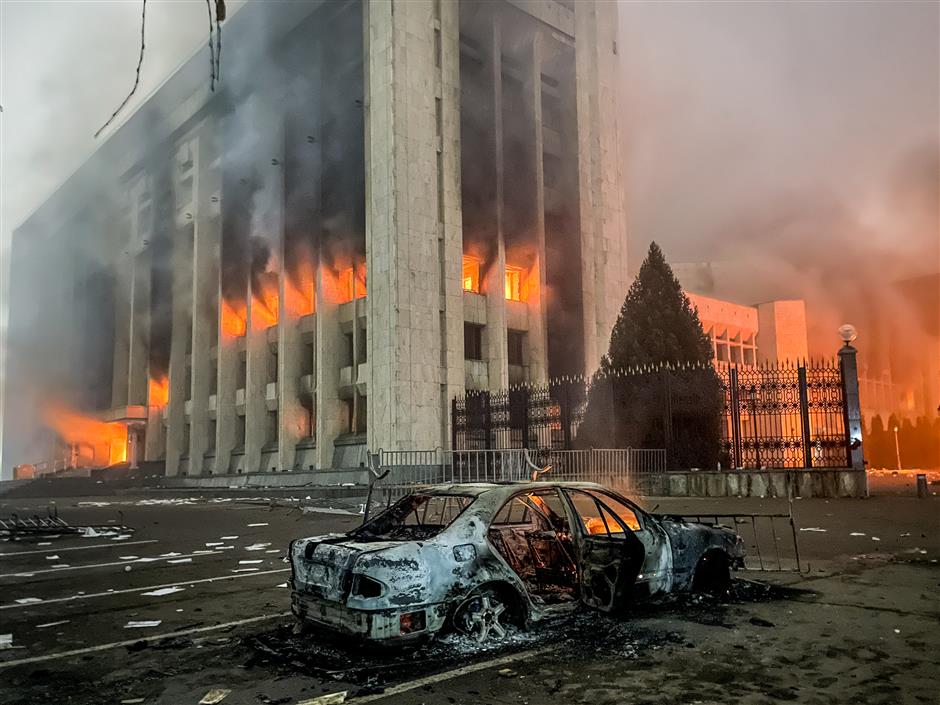 CFP。
A burnt car outside the Almaty mayor's office. Protests are spreading across Kazakhstan over rising fuel prices. Protesters broke into the mayor's office and set it on fire.。
Troops and protesters clashed in Kazakhstan's largest city Almaty yesterday, with police saying tens of rioters had been "eliminated" as they tried to storm their offices.。
Several armored personnel carriers and dozens of troops entered the main square of Almaty yesterday morning where hundreds of people were protesting against the government for the third day.。
Gunshots were heard as troops approached the crowd, but the situation in the square had calmed down since then.。
Around Kazakhstan, protests initially sparked by a fuel price rise killed eight police and national guard troops on Tuesday and Wednesday, prompting Kazakh president Kassym-Jomart Tokayev to appeal for help from a Russia-led security alliance.。
State television reported yesterday that the National Bank of Kazakhstan had decided to suspend work of banks in the country for the safety of their workers.。
The Internet in the country is mostly down.。
A Russia-led military alliance said it would send peacekeeping forces to "stabilize" Kazakhstan, blaming mass protests that have plunged the ex-Soviet country into chaos on "outside interference."
Long seen as one the most stable of the ex-Soviet republics of Central Asia, energy-rich Kazakhstan was facing its biggest crisis in decades after protesters angry over rising fuel prices stormed government buildings.。
Tokayev said in an address to the nation early yesterday that he had appealed to the Russia-led Collective Security Treaty Organization, which includes five other ex-Soviet states, to combat what he called "terrorist groups" that had "received extensive training abroad."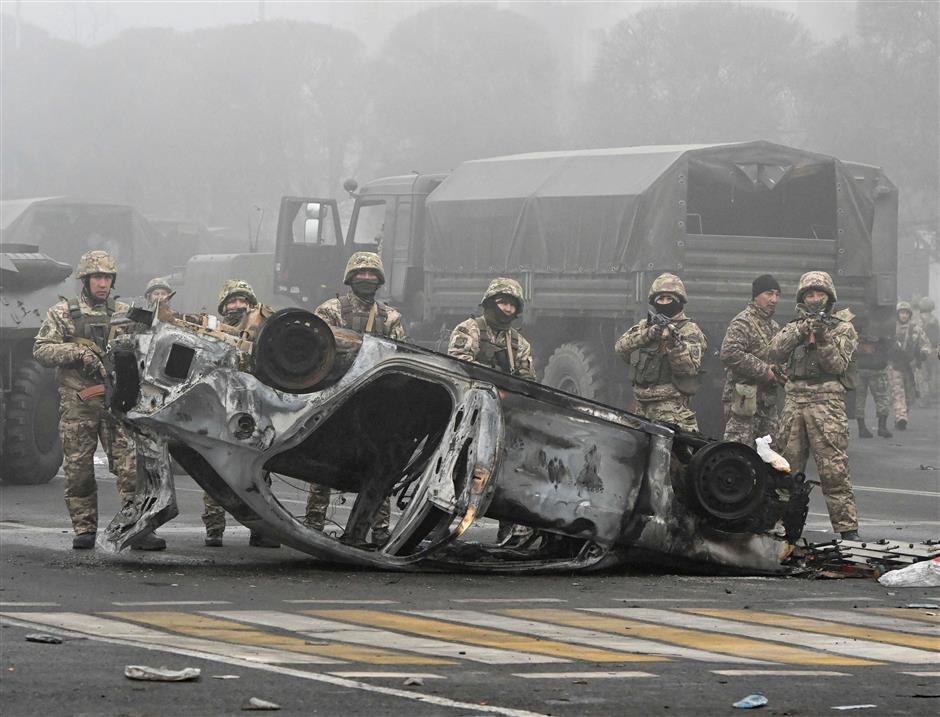 Reuters。
Troops in the main square of Kazakhstan's main city, Almaty, where hundreds of people protested against the government after authorities' decision to lift price caps on liquefied petroleum gas.。
'Outside interference'
The CSTO's chairman, Armenian Prime Minister Nikol Pashinyan, then said on Facebook that the alliance would send "collective peacekeeping forces ... for a limited period of time in order to stabilize and normalize the situation in this country" that was caused by "outside interference."
Tokayev said that "terrorists" were seizing buildings, infrastructure and "premises where small arms are located."
He added that they had also commandeered five planes at the airport in the country's biggest city Almaty and said that Kazakhstan's air forces were engaged in a "stubborn battle" near the city.。
"I intend to act as tough as possible," he warned in an earlier address.。
"Together we will overcome this black period in the history of Kazakhstan."
In Almaty on Wednesday night, hundreds of protesters – some wearing helmets – gathered in the city center and paraded a police vehicle draped with Kazakh flags.。
Some videos on social media showed protesters seizing weapons.。
Others showed mostly empty streets with the sound of explosions and automatic weapons firing in the background, after local authorities announced the start of "anti-terrorist" operations.。
Protests spread across the nation of 19 million this week in outrage over a New Year increase in prices for liquid petroleum gas.。
LPG is widely used to fuel cars in the west of the country.。
Thousands took to the streets in Almaty and in the western province of Mangystau, saying the price rise was unfair given oil and gas exporter Kazakhstan's vast energy reserves.。
After a night of unrest that saw more than 200 people detained, several thousand protesters stormed the mayor's office in Almaty on Wednesday afternoon and appeared to have seized control of the building.。
TASS news agency quoted the health ministry as saying more than 1,000 people had been injured during the protests.。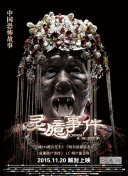 Chinese footballers have to learn to deal with media, says former Chinese international******
BEIJING, Nov. 1 (Xinhua) -- Chinese football players have to come to terms with criticism from the media with a strong mentality, said former Chinese international Li Yi.。
Chinese players, especially the national team ones, tend to become the laughing stock of the fans when things go wrong with them, said the head coach of China's second-tier side Sichuan Jiuniu.。
"Above all, you need to be mentally strong to face the criticism. Otherwise, you probably cannot get over it," said Li.。
"When I was young, I could not figure out why others could get away with a mistake on the field while that could leave me having to face a flood of stick," he said.。
"But you have to get to grips with it, which in turn could help you develop a strong mentality," he added.。
Li made those comments when the Chinese national team is under fire after they won one and lost three of their first four games in the third round of Asian World Cup qualifiers.。
"The fact that you are being criticized means you are still being valued," Li noted. Enditem。
大陆宣布制裁"台独"顽固分子 杀伤力有多大?
1.7月1日起,北京公积金账户余额可直接用来还贷款了!
2.一高层住宅电动车违规停放被烧 物业车主均被罚
3.美议员再窜台大陆继续反制 美又称"不打算升级局势"
4.谢霆锋妈妈70岁造型仍然讲究 皮草披肩华丽贵气